Aangifte Minister Justitie Spanje van diefstal 300.000 euro, 75.000 euro, documenten en hersenspoelen!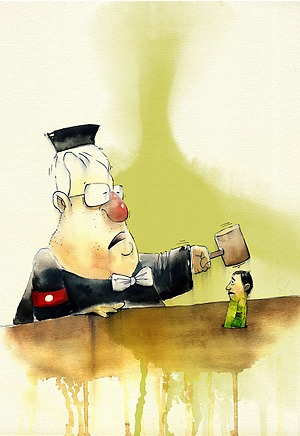 Op maandag 6 oktober Minister van Justitie in Spanje Don Rafael Catalá Polo in Madrid via brief op de hoogte gebracht van mijn verzoek tot het doen van aangifte in drie verschillende, maar gerelateerde criminele zaken! De brief is natuurlijk in het Engels en de Post staat dan ook op mijn Engelse Blog. Ik leg hem eerst uit dat het om een Nederlandse doofpot en samenzwering gaat waarbij het Nederlandse Koningshuis negatief betrokken is en dat het daarom op valse gronden Nederlandse staatsveiligheid en staatsgeheim betreft. Alle Nederlandse ambtenaren, ministers en politici die trouw aan de Koning hebben gezworen, moeten daarom meewerken aan het bedriegen van het Nederlandse volk! Lafaards en verraders!
Ik hoor later dat het toch weer om 3 ton ging in twee pakjes! Eén met 75.000 euro en de cruciale Engelse documenten/bewijzen, en nog een pakje met 225.000 euro. Sluw verzwijgt oplichter en dief André Gruters uit Houten het meest waardevolle pakje voor de andere betrokkenen!
Het Nederlandse Ministerie van Justitie werkt in deze zaak dan ook omgekeerd aan hun missie en doelstelling en vindt dat laf en corrupt geen enkel probleem! Helpen van misdadigers en bedriegen van de slachtoffers.

Ze weigeren ieder onderzoek en zelfs het officieel doen van aangifte zodat er later laf en corrupt geen bewijs meer van is! Welke aangifte bedoelt U? Ons is niets bekend! Sluw, sluw, sluw van nu Minister Justitie Ivo Opstelten!
Inhoud bijlagen bij de brief
Scammed by a Dutch 'friend' in the Jalon valley in Spain!
Ripped off by an Ukrainian crook in Benidorm! 300.000 euro lost!
Brainwashed by the Dutch secret service! Spain involved!
Veel getuigen oplichting en diefstal of deels medeplichtig?
André Gruters en Joke Laven zelf door initiatief oplichting en diefstal van 300.000 euro en cruciale documenten! Oplichters zelf!
Hans en Marian Stigter uit Rotterdam, waarschuwden mij niet en zwaar betrokken. Zie Post Ook bedrogen door Hans en Marian  Stigter!
Hans en Tini Bauerlein uit Jalon die mij zelfs meerdere keren waarschuwden! Hulde!
Raoul en Pien van de Weerdt uit Jalon die vertaalwerk deden en mij NIET waarschuwden! Zwaar betrokken!
Theo en Bep van Mierlo uit destijds Murla, nu IJsselstein die auto kochten met briefjes van 50. Licht betrokken.
Marjo van Zomeren uit Jalon/Collada die mij meerdere keren waarschuwde! Hulde! Licht betrokken voor vertaling Engels. Haar familie ook op de hoogte diefstal.
Harrie en Ine van Rijbroek uit Uden met villa in Liber/Jalon die kopieën documenten naar Godfather mr. Johan Smedema die leider samenzwering brachten!
Josefa en Dani Mengual, dochter en zoon eigenaar Juan Mengual van Casa Aleluya die getuige waren van 'blokkade deur' door oplichter André Gruters van mijn gesprek met koerier uit Nederland. Cruciaal stukje bewijs!
Willem Scholman uit Goy bij Houten, beste vriend van André die er direct werd bijgehaald en volledig betrokken is en geld heeft gekregen. Zwaar betrokken!
Anderen via de tam-tam.