Smedemaësk definitie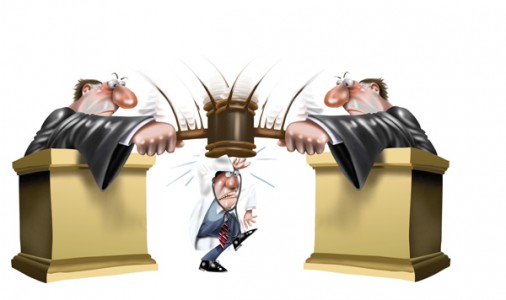 Smedemaësk is de overtreffende trap van Kafkaësk!

Smedemaësk is ook Orwelliaans, waarbij wetten speciaal worden aangepast om misdrijven te verbergen!

Smedemaësk is het opzettelijk mentaal en financieel kapot maken van slachtoffers door de staat zelf met als doel het voorkomen van uitkomen van verraad en misdrijven.

Smedemaësk is een waanwereld ten koste van tientallen miljoenen echt laten lijken, om misdrijven en zware mensenrechtenschendingen te verbergen voor de slachtoffers en een heel volk.
Wordt nog verbeterd de komende tijd.
Namelijk waarbij een heel land orwelliaans massaal alles verbergt voor een door misdadigers opzettelijk zwaar getraumatiseerd onschuldig argeloos echtpaar, dat juist slachtoffer is van ernstige martelingen door criminelen en van de grootste doofpot uit de Nederlandse zo niet wereld geschiedenis!
Koninklijk huis, ministers, politici, familie, vrienden, politie, justitie, OM, rechters, advocaten, psychiaters, psychologen, hulp organisaties, andere landen, iedereen doet bij Smedemaësk mee om vooral GEEN informatie te verstrekken aan de argeloze slachtoffers, die orwelliaans een valse gemanipuleerde werkelijkheid voor te houden, en hun vervolgens ijskoud, gewetenloos en meedogenloos te laten creperen in hun laatste jaren op deze voor hun misselijke makende aarde.
Zelfs alle organisaties voor slachtoffers, mensenrechtenorganisaties weigeren orwelliaans aangestuurd door de staat iedere hulp, kafkaësk zonder de daadwerkelijke reden te vertellen! Waardoor de slachtoffer mentaal en daardoor later ook financieel kapot gaan, maar hun GEEN medische hulp wordt gegeven! Het mentaal kapot maken is namelijk het doel! Het voorkomt immers uitkomen.
Hier als enige reden een door de achterlijke Koningin Juliana rond 1975 op grond van fraude en afpersing heimelijk ingevoerd speciaal wetje of regeling, die iedere vervolging van misdadigers waarbij Hans en Wies Smedema betrokken zijn,  verbiedt. En daarbij orwelliaans landelijk(!) alles geheim te houden voor het argeloze echtpaar. Zonder enige inhoudelijke controle en zonder exit strategie, en zonder het argeloze echtpaar daarin te kennen. Dus loopt nu gewoon door onder eerst de laffe en corrupte Koningin Beatrix, en nu de laffe corrupte Koning Willem Alexander. Terwijl slachtoffer Hans Smedema in detentie crepeerde tijdens zijn verzoek om asiel tegen de vervolging uit Nederland, in 2009 28 weken en 2013/14 10 weken, feesten deze laffe schoften gewoon door.
De misdadigers worden daardoor juist Koninklijk beschermd en de slachtoffers zijn zonder het te weten of beseffen, vogelvrij verklaard. Buiten de normale wetten geplaatst, maar heimelijk. Terwijl de misdadigers het wel weten en daar natuurlijk dus ruimschoots en gretig misbruik van maken.
Alsof je tijdens een voetbal wedstrijd in de pauze de regels wijzigt, maar één partij dat niet verteld.
Gevolg is dat de slachtoffers het niet meer kunnen begrijpen en bevatten, geen juiste effectieve medische hulp kunnen krijgen, geen juridische hulp, en uiteindelijk na jarenlang vechten om informatie, een totaal verwoest leven, en zowel mentaal als financieel kapot gemaakt. Leven nu gedwongen beneden de armoede grens, zonder recht op zelfverdediging of de normale rechten van de mens!
Zie ook Post Frans Kafka en Hans Smedema
en Post Comparison George Orwell 1984