Last Updated 27/12/2021 published 12/01/2018 by Hans Smedema
Table of Contents - Inhoud
Vechten tegen het onbekende – Ebooks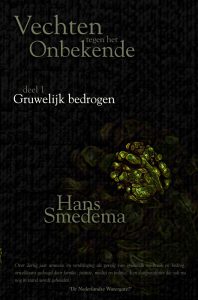 Hier de nederlandse Vechten tegen het onbekende Ebooks!
Ze kunnen wereldwijd gekocht worden voor slechts ca. 2+ euro! Google Auteur Hans Smedema Ebooks
For the English Ebooks Google Author Hans Smedema Ebooks, and see post
Voor deze boeken naast Epub ook in PDF, html en veel meer formaten zie…
speciale (koop) informatie over mijn Ebooks
Vechten tegen het Onbekende – Deel 1
Gruwelijke nog lopende(!) doofpot affaire door de Nederlandse staat in 4 delen. Slachtoffers en Nederlandse volk worden bedrogen om blunders en criminele beslissingen te verbergen. Amerikaanse vriend(CIA) van auteur Hans Smedema, werd zelfs onschuldig ontslagen en kon pas 10 jaar later zijn gelijk bewijzen met de geheime file van Hans Smedema, die volgens justitie Nederland niet bestond. Hij kreeg bijna een miljoen schadevergoeding en probeerde Hans te helpen. De Nederlandse Watergate!
Vechten tegen het Onbekende – Deel 2
Deel 2 – Onmogelijke flashbacks – Vechten tegen het onbekende. Auteur Hans Smedema krijgt als donderslag bij heldere hemel, onmogelijke flashbacks, of hervonden herinneringen. Terwijl hij dacht een redelijk normaal leven te hebben geleefd, blijkt het gruwelijk te zijn geweest voor hem en zijn nog steeds onwetende vrouw. Door het afgesproken betaalde ontkennen van alle betrokkenen, ontstaat een gruwelijke situatie. Hans werd bijna gedwongen in een Psychiatrische Inrichting opgesloten!
Vechten tegen het Onbekende – Deel 3
Deel 3 – Verstoten. Lees eerst deel 1 & 2 voor een goed begrip van dit gruwelijke 'misdrijf van de eeuw!' De Dutch Queengate. Hans krijgt overal waar hij om hulp vraagt een weigering om te helpen. Hij wordt dus verstoten in Nederland en maakt zich klaar om naar Spanje te vluchten. Huiveringwekkend is de opstelling van de familie, Psychiaters, advocatuur en justitie.
Vechten tegen het Onbekende – Deel 4
Deel 4 – Vechten tegen het Onbekende – Asiel geweigerd! Autobiografie. Betreft unieke nog lopende(!) doofpot en samenzwering. Hoogstwaarschijnlijk de grootste uit de Nederlandse geschiedenis. Gruwelijk hoe een corrupte groep criminelen kans zag om het leven van auteur en zijn vrouw totaal kapot te maken en daarbij de Nederlandse regering en Koninklijk huis te bedriegen. Gruwelijk!
Vechten tegen het Onbekende – Deel 5
Volgt snel na de laatste ontwikkelingen!
Zie recente posts op blog hanssmedema.info