Smedema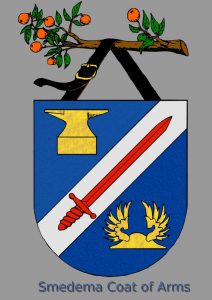 Netherlands name from 1811
Blazoning:
In blue a silver bend sinister, charged with a red sword; the bend above accompanied by an 'anvil' and beneath with a 'mercuriushelm', all of gold. The crest hanging from a black belt on an 'orange branch'.
Motivation:
Used are the colors of the Coat of Arms from 'Dongeradeel' (and from the Netherlands 'Friese flag'), the silver Bend Sinister with the red sword symbolizes the 'Kollumer rebellion' of which 'Johannes Wessels' took part and for which he was arrested.
It also symbolizes the spirit and thoroughness of the family. The color red symbolizes the blood that was drawn there and also the color of the 'pompebled' in the 'friese flag'.
The 'anvil' symbolizes the blacksmith he was and of which the name 'Smedema' was originated. It also symbolizes the sterling character and technical insight.
The 'mercuriushelm' stands for salesman, entrepreneurial and commercial spirit, he had his own smithy.
The 'orange branch' stands for those who are 'Orangists' as those who took part of the Netherlands 'Kollumer rebellion' were for the 'Principality' or against the 'radicals', but also for loyalty. Johannes Wessels was part of the famous 'Kollumer rebellion' of those times.
The above Coat of Arms (COA) was initiated and applied for by 'Hans Smedema' (rightful descendent from 'Johannes Wessels') born at Leeuwarden Netherlands on 27 March 1948, who allows in conformity with heraldic rules, all descendents of 'Johannes Wessels' to use it.
It is officially approved by the 'Fryske Rie foar Heraldyk' at Leeuwarden Netherlands and is published in the official Netherlands Frisian 'Genealogysk Jierboek' of 2004.
It may be used solely by all agnate (direct male) descendents of 'Johannes Wessels' born in 'Morra', municipality 'Oostdongeradeel' on 16 December 1764.
He adopted on 13 December 1811 the name 'Smedema'.
He was married on 24 May 1801 with 'Lutske Geerts' born in 'Westergeest' in 1774, whose family in 1811 adopted the name 'Ludema'.
'Johannes Wessels' died on 20 February 1827 in 'Morra' and his wife 'Lutske Geerts' died on 19 May 1840 also in 'Morra'.
Secret meaning
A secret meaning of the Crest is the fact initiator Hans Smedema added in red the 'Sword in blood' when he already knew that he was the victim of 'the crime of the century' against him and his wife and written down in the book 'Fighting the unknown'. It stands for the revenge Hans is preparing for his many enemies.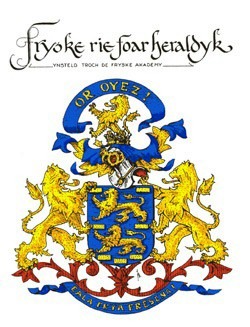 The crest was designed and drawn in accordance with standard heraldic demands by 'Rudolf J. Broersma', drawing master of the 'Fryske Rie foar Heraldyk'.