Ban door NuJij.nl, alle berichten gewist!


Gister 6 februari 2015 werden alle berichten die ik als klokkenluider op NuJij.nl had geplaatst gewist. Dit waren waarschuwingen aan het Nederlandse volk mbt de grootste politieke samenzwering ooit uit de Nederlandse geschiedenis. Voor mij ook belangrijk als bewijs voor later, dat ik voldoende pogingen heb ondernomen om deze zaak onder de aandacht van journalisten en publiek te brengen. Daarin ben ik voldoende geslaagd en zal niet meer bij NuJij publiceren.
Wel maak hier nog even melding van dat huiveringwekkende feit. Ongelofelijk dat in het misdrijf van de eeuw, zonder duidelijke redenen alle berichten over dat misdrijf plotseling worden gewist. Een berichtje kan nog bij een foutje of zo, maar alles over het 'misdrijf van de eeuw', of 'Dutch Queengate?'
Specifiek ging het om mijn laatste Post mbt Jaap, de vaginajager & mind control.
Dat bericht is een vervolg in meer detail op de post:
https://hanssmedema.info/drogeren-verkrachten-minderjarig-meisje-door-drs-jaap-duijs-uit-drachten/
Het betreft openbaar maken van mijn poging tot aangifte en/of melding van misdrijven. Dit als direct gevolg van het feit dat deze verkrachter valt onder heimelijke en illegale Koninklijke en justitionele protectie. Dus is het mijn plicht om mij zelf en mijn vrouw te verdedigen en het Nederlandse volk te waarschuwen. Dus juridisch niets verkeerds aan.
Reden ban door NuJij.nl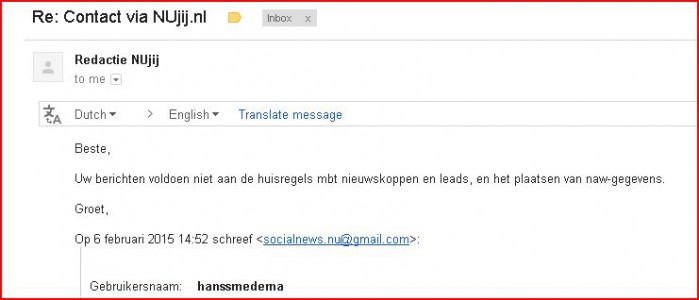 Vaag, gezocht en onduidelijk volgens mij. Ik zie hier geen problemen.
Wel gedurfd door mij, maar dat zie ik als een compliment.
In totaal moeten er een 40 berichten zijn geweest, die bewijzen over deze politieke samenzwering via mijn blog, benaderbaar maakten.
Op mijn blog staan inmiddels over deze zaak een 350 Posts sinds 2007.
En desondanks geen enkel inhoudelijk media artikel over deze zaak.
Telegraaf weigerde publicatie bij monde van destijds misdaadverslaggever John van den Heuvel. Ook geen inhoudelijke reden  opgegeven.
Cordon Sanitair rond Hans Smedema
Uit alles blijkt dat er nog steeds een zwaar 'Cordon Sanitair' rond mij is opgetrokken. Terwijl ik de enige ben die grote dossierkennis heb en zaken aan het licht breng die zeer belangrijk zijn in het bestrijden van onrecht, verkrachtingen, mind control en met name drogeren door verkrachters. Educatief en noodzakelijk als waarschuwing naar ouders en argeloze weerloze meisjes.
Expert groep klokkenluiders
In navolging tot eerdere vergeefse pogingen om in contact te komen met deze groep hulpverleners, zond ik zojuist een e-mail aan Voorzitter Gerrit de Wit met de volgende tekst: